News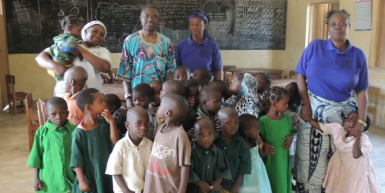 In January 2014, PACAW,Inc. employed eight new teachers for the three schools, (two primary schools and one secondary school) in the village in Kwara State Nigeria where we are currently operating. One more teacher was added to the secondary school staff in April 2014.
PACAW Inc. PROJECTS IN NIGERIA, COMPLETED, SEPTEMBER, 2014.
1. LIBRARIES FOR THE PRIMARY SCHOOL AND THE SECONDARY SCHOOL IN KORO-EKITI, KWARA STATE.
2. COMPUTER CENTER FOR THE PRIMARY SCHOOL IN KORO-EKITI, KWARA STATE.
3. PACAW Inc. LEADERSHIP ACADEMY FOR THE TEACHERS, YOUNG GRADUATES FROM TERTIARY EDUCATIONAL INSTITUTIONS IN NIGERIA
AND COMMUNITY LEADERS WHICH TOOK PLACE FROM SEPTEMBER 1-5, 2014.
4. LINKS TO THE ADDRESSES DELIVERED BY THE PRESIDENT OF PACAW Inc., THE COORDINATOR FOR PACAW Inc. IN KOGI AND KWARA
STATES AND THE JOINT ADDRESS BY THE PRINCIPAL OF THE SECONDARY SCHOOL AND THE HEADMASTER AND HEADMISTRESS OF
THE PRIMARY SCHOOLS.
PACAW, Inc. TEACHERS. Posted, February 16, 2015.
In November 2014, another teacher was added to the staff of the primary schools to teach Mathematics and basic computer skills. Thus, in 2014, a total of ten new teachers were added to the staff of the primary and secondary schools. This brings the total number of  PACAW, Inc. teachers in the primary and secondary schools in Koro-Ekiti, Kwara State to twelve.
UPDATE ON PACAW, Inc. TEACHERS: POSTED APRIL 6, 2016.
In 2015, one PACAW, Inc. teacher in the primary school was dismissed because of lack of truthfulness. During a long absence from work, at which time she continued to draw her pay, both she and her family failed to respond to multiple requests for reasons for her absence. These requests included evidence of hospitalization or any illness requiring frequent visits to a doctor. There was complete silence from her and her family.  Hence, she was terminated, and the position has been filled.
In the secondary school, two teachers left for jobs in other states, one in Lagos, the commercial capital of Nigeria and the other in Plateau state. They both performed well as PACAW, Inc. teachers and we wish them the very best in their future endeavors. Both positions were also filled.